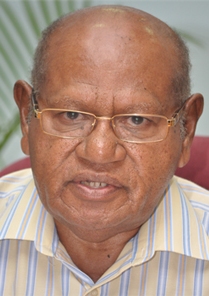 Bougainville President, John Momis, today expressed anger at Rio Tinto's decision to transfer its 53.8 per cent share in Bougainville Copper Ltd (BCL). International mining giant, Rio earlier announced transfer if its BCL shares to an independent trustee, for distribution to the ABG (36.4 per cent), and the PNG Government (17.4 per cent).
PNG is already 2nd largest BCL shareholder. So the share distribution would see the governments equal BCL shareholders – 36.4 per cent each. The remaining 27 per cent of shares are held by small shareholders.
Rio Tinto has been reviewing its BCL shareholding for almost two years. The review resulted in Rio deciding to end its investment in BCL, which ran the giant copper and gold mine at Panguna from 1972 to 1989, under the 1967 Bougainville Copper Agreement (BCA).
"Rio Tinto has made a unilateral decision," President Momis said, "it failed to consult the Bougainville Government about distributing its shares."
"At meetings with senior Rio officials, in July 2015 and February 2016, I warned strongly against transfer of Rio's shares to PNG. It Bougainvilleans cannot accept National Government control over the future of Panguna through either majority or equal shareholding in BCL.
"We are open to PNG remaining a BCL shareholder. That may assist us find responsible partners and financiers for possible future operations at Panguna. But we cannot accept Rio Tinto's interference in seeking to give PNG equal control over Panguna. There is no possibility of progress on resolving the future of Panguna on that basis."
"Rio Tinto has shown arrogance and ignorance in ignoring my warning. Sitting in their comfortable London offices, they have interfered in Bougainville's affairs by deciding PNG should have equal control of BCL.
"Bougainvilleans are united in rejecting what Rio Tinto seeks to thrust upon us."